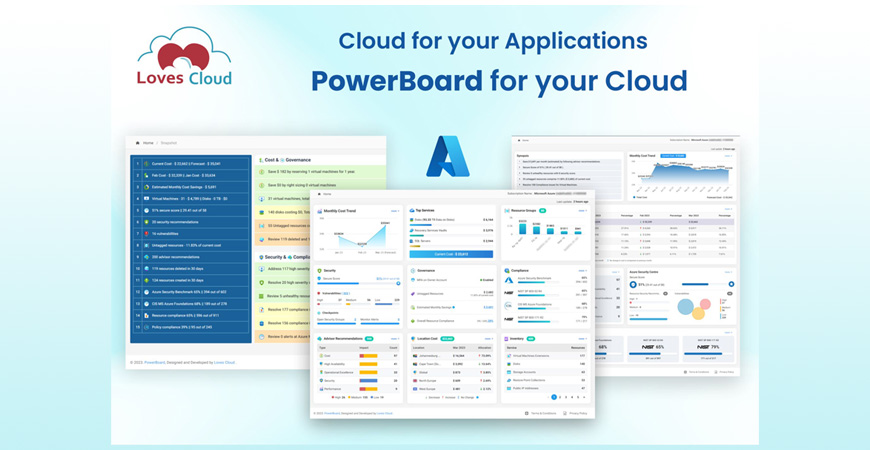 Cloud Management Platform for Azure and Microsoft365
Cloud computing has ushered a new era for organizations globally where they have found themselves vulnerable to security and unpredictable cost, along with a paradigm shift of a shared security responsibility model. Cloud computing also brought in a steep learning curve along with its problem of plenty and organizations are finding it difficult to catch up with cloud. Moreover, executives find themselves in a tight spot due to acute shortage of cloud professionals and ever expansive nature of cloud computing to deal with cloud security, cloud cost and governance.
Interestingly, the global cloud computing market size is expected to grow continuously from USD 371.4 billion in 2020 to USD 832.1 billion by 2025. Gartner predicts that by 2025, the percentage of enterprises deploying multifaceted cloud governance tooling will be over 70% versus less than 10% in 2020.
Cloud management platforms (CMPs) are increasingly becoming an indispensable asset for organizations running their mission critical applications on cloud. These CMPs help organizations optimize cost, improve security and govern workloads continuously and proactively.
PowerBoard is a unified, no code, #cloudmanagementplatform that reduces total cost of ownership and increases return on investment for organizations using #Azure and #Microsoft365.
PowerBoard connects with your cloud platforms through a read only permission. It continuously assesses thousands of data points of your cloud accounts to find ways to lower costs, improve security and increase compliance proactively. It automatically prepares assessment reports and sends it to communication tool of your choice, such as an email, Microsoft Teams or Slack.
Moreover, Every customer is assigned a cloud consultant who keeps a close eye on all the data points and connects with customer regularly to optimize cost, improve security, compliance, governance & resource utilization. This consultant also updates customers about all the new features released for PowerBoard and ensures that the customer gets the most value for this product.
📧 biz@loves.cloud to sign-up for a 14 days trial.