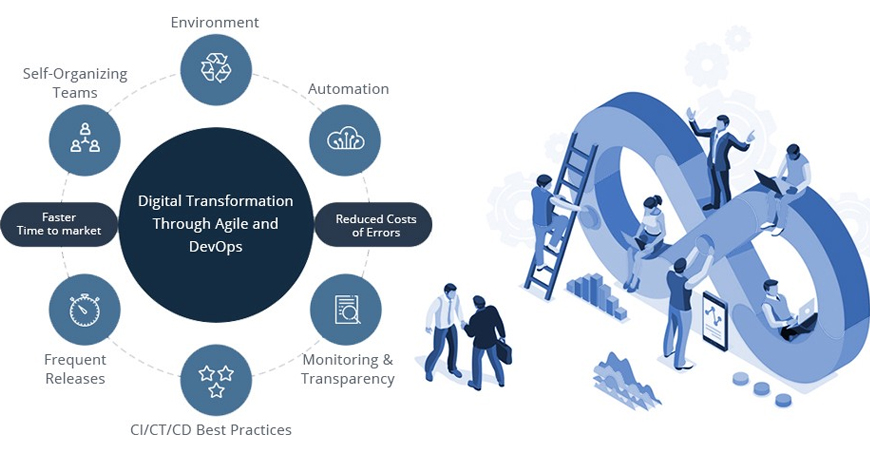 Digital Transformation through Agile and DevOps
We are passing through a very interesting time. Technology is making inroads into our daily life like never. It's an era of huge software-based applications and plenty of business requirements. We can't imagine a single day without being digital or wonder if any business requirement can be met without software. Be it a small enterprise large industry, almost everywhere we can see the effects of digital transformation.
The fourth industrial revolution, also referred to as Industry 4.0, is standing on the four pillars of cyber-physical systems, the Internet of Things, cloud computing and cognitive computing. These four components are driving automation and facilitating data exchange in manufacturing technologies. It has become imperative for every industry to adopt the changes brought in by digital transformation for their overall economic growth. And there ushers in the dawn of change. You eventually find out that digital is powering the world. Consumers, too, are embracing the digital for their 'growth' (read convenience) and most importantly "Transformations."
The purpose of technology is to solve problems for business, not to become one instead.
Now, talking about digitization, it always comes with a basic question: How are we going to deliver it? What is the best method? Although Waterfall model has been the key software development methodology since years, today, it has become a norm to use Agile for its flexibility, faster problem solving ability and the ability to boost collaboration.
DevOps, on the other hand, is a mashup of 'Development' and 'Operations.' It is a set of software development practices that shortens systems development life cycle by combining software development (Dev) and information technology operations (Ops). Together DevOps and Agile is redefining the path of digital transformation and almost all global enterprises are leveraging its benefits to meet the highest standards in customer service.
Role of Agile in digital transformation
Agile methodology follows an iterative approach. Every step of the software development- from requirements to delivery is defined here. This makes Agile stand out in the concept of digital transformation. Since, nowadays, consumer requirement and preference keep changing frequently Agile fits in the role perfectly as it makes each phase of development and implementation faster and more reliable.
Agile creates a framework based on which an organization can release a particular software solution in rapid iterations. Thus, it helps to deliver an enhanced digital customer experience.
A drastic cultural shift is being driven by Agile. For any organization, to shift from a traditional framework to a digital one, a number of factors like transparency, collaboration, culture, accountability etc. are needed to be taken into consideration. It's necessary that everyone receives training to understand the 'change' and its outcome. Through Agile, that is being done effectively.
Agile helps organizations to create a secure digital platform. We seldom notice the underlying infrastructure that provides us the digital experience, while using any device like mobile or tablets. Over the years, the ERP systems have dictated the applications making them expensive yet less flexible. But in recent years, Cloud has started freeing up the application landscape and Agile has been dominant among all the traditional methods.
Role of DevOps in digital transformation
DevOps has been steadily gaining momentum since the "DevOps Days" of 2009. Going ahead, one can certainly visualize DevOps pushing the CIOs to create more related roles in software industry such as Chief Digital Officer. That being said, the transition is never going to be an easy one.
Following is why DevOps is being considered as an important lever of transformation:
DevOps promotes automation: When the IT industry was struggling to adopt Agile, DevOps came as a boon. Its approach towards zero-touch automation encouraged the industry to work with fully automated CI/CD (Continuous Integration and Continuous Delivery) pipelines all the way from development to deployment.
DevOps ensures security: Along with flexibility and value, DevOps ensures safety and security. For companies aiming at faster and value-added delivery, security remains a prime concern. DevOps addresses that concern by incorporating security into DevOps processes and following shift left approach.
As most of the companies rush to adopt Agile and DevOps to match pace with the exponentially growing marketplace, their leaders need to acknowledge that the pattern of transformation is quite in-depth. Here are a few things the organizations must keep in mind to facilitate smooth transition of methods:
Anchoring the change in corporate culture
For any successful transformation, be it at the technical level or at the business front, inculcating a change in the corporate culture is very important. The organization should be encouraging enough to allow its employees to understand and get accustomed to the DevOps and Agile environment. It's a two-way process. On one hand, the company has to identify its leaders who will champion the ongoing processes and associate them with new skills. On the other hand, it has to engage with the particular set of stakeholders who will make valuable contributions to this transformation.
Building a focused team:
For digital transformation to be successful in a dynamic organization, first of all, a focused team is required that will understand the need of the hour and collaborate accordingly. Most of the organizations face pressure at this point. They often fail to understand the changing demands of the customers, user expectations and market opportunities. A 360-degree change management is required to overcome this pressure. The management also needs to understand the fact that the transformation will not only be implemented at its ground but across the whole organization.
Connecting the dots:
The organization must find out the loopholes in a process and try to connect the dots. It can implement the three-dimensional business model by connecting the three points: Agile , DevOps and the business outcome. Although easier said than done, a continuous development and testing process should be included in the whole delivery and operation cycle for smoother shifting of methods.
Finally, proper training is crucial at every level for the digital transformation to be successful. The organization must take up one technology tool at one time and train its people thoroughly in it. Only then, it will be able to realize the true value of transformation in the long run.
Benefits of digital transformation using DevOps and Agile:
Reconfiguration of the working environment and practices to become Agile-friendly
Maximize collaboration
Simplification of key processes and minimization of hardware provisioning
Introduction of services with a 'one-click' deployment
Modernization and simplification of IT infrastructure and applications
API- enabling of legacy systems
A shift from monolithic technology to a micro-services architecture
Implementation of continuous integration/delivery pipeline
Empowerment of software teams with DevOps tools, e.g. JIRA for project management, GitHub for development, and Jenkins for Automation, etc.
Upcoming opportunities
With rapidly changing business dynamics and customer expectations coupled with stellar technology innovations, digital transformation is the only way forward. Agile and DevOps is going to play a key role in this process. Currently, around 90% of global organizations are successfully using DevOps in their business requirements. The ones who are left behind are also planning to implement DevOps as a solution to their daily workarounds. Although it's true that DevOps and Agile will not address all software development issues, they will be functional in helping companies improve their engagement with customers and other key business stakeholders. These practices and the tools used therein will help organizations to keep up with the constantly changing and unpredictable business environment.
At Loves Cloud, we are constantly leveraging the power of major public cloud computing platforms along with multiple open source software solutions to automate, optimize, and scale the workloads of our customers. To learn more about our services aimed at digital transformation of your business, please visit https://www.loves.cloud/ or write to us at biz@loves.cloud