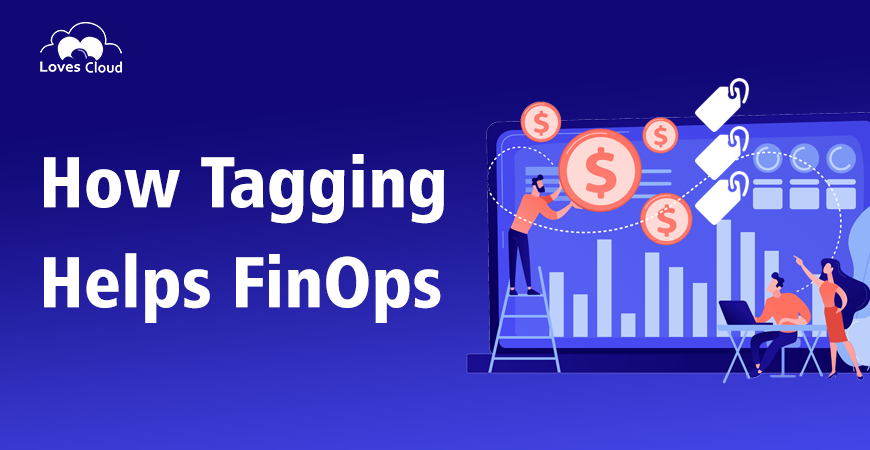 Financial management nowadays doesn't look like it did just a few years ago. How we operate our businesses has completely shifted since the inception of cloud technology.
While enterprises embrace the cloud to cut expenses and get the most out of their IT investments, IT spending can quickly get out of hand in the early phases of cloud adoption. The cause? The lack of adaptive governance strategies, including cloud cost management or FinOps.
Accurate visibility into cloud resources, budget controls, and chargeback mechanisms through automation—all of these are essential enablers in developing a successful FinOps strategy. And one approach for businesses to ensure this is by implementing a dependable and efficient "tagging" strategy.
Let's find out what tags are and why they are critical for FinOps. Read on below!
What are Tags?
If the world of social media has hashtags, the cloud has cloud tags. Simply put, they're the metadata labels made up of a combination of user-defined values and keys. It's a strategy that lets you apply a label to things so you can identify them later on.
By assigning a tag to each cloud resource, businesses can quickly and easily identify groupings such as workload, business unit, or application. This streamlines your cloud spend process, making it easier to allot, budget, forecast, and establish a culture of accountability.
How Do Tags Help FinOPs?
Tagging is helpful in many ways in following standard procedures for resource deployment, administration, and reporting.
With strict and well-planned tag hygiene, companies will enjoy the following benefits:
Automation. Tags can be used to track resources for automation tasks like electricity consumption or opting in or out of automated activities.
Security. Tags will make it easier to recognize sensitive data, pinpoint data that needs to be retained, and highlight workloads that must follow compliance regulations.
Cost Reporting. Tags can identify everything from cost centers, business divisions, applications, and infrastructure teams, to management hierarchy, clients, or projects. This is useful and effective when supporting a chargeback or showback model.
Resource Management. Tags can allow a company to organize resources outside the provider account structure and quickly control user access.
Tagging Best Practices
Many businesses develop their tagging strategies in response to many different stakeholders' specific reporting needs. Usually, problems arise when this method is put into practice.
It can be challenging to fulfill reporting requirements accurately, clearly, and concisely when there are minor deviations from well-documented standards. So, when you're carrying out your tagging strategy, keep in mind the following:
1.  Make Sure Your Tags Are Aligned
Tags should be in line with your cost-allocation plan. Before you begin tagging, a comprehensive expense management plan should be in your head. Create tags that will aid in tracking and allocating spending, and make sure they complement your approach.
2.  Tag Everything
Make sure to tag as many resources as possible so that none are overlooked. You can even implement rules in your cloud environment that prevent resources from being launched without tags.
The more resources a team can tag, the better and more precise cloud cost allocations will be. Hence, discussions about accountability will be less heated, and dashboards and reports will be clearer.
3.  Determine A Use For Each Tag
Before including a tag, consider a specific use case for each one. Otherwise, you'll struggle to justify your tags and risk encountering a tangle of arbitrary tags.
Keep it as simple as possible and limit how many tags you adopt. Eliminate overlaps and redundant tags. Look for opportunities where you might merge them so that you may use fewer tags overall.
It's easy to get lost in tagging, so keep it manageable! It goes without saying that the more tags you have, the more you have to deal with. The rule of thumb here is to keep your numbers as low as possible while keeping the information value as high as possible.
4.  Be Consistent
Maintain a standard naming convention to help maintain perspective and ease further processing.
Create tags that are more descriptive rather than abstract to make them easier to read. Avoid the manual tagging of services by using automation software such as Terraform, Chef, or Puppet to complete as many jobs as possible to save time.
Furthermore, you can also look into creating rules that prevent launching untagged resources. This is a simple way to guarantee that no new resources sneak into your environment untagged.
5.  Always Audit and Maintain Your Tags
Make it a habit to review tags to verify their purpose regularly. Tag maintenance is crucial and should involve everyone on your team. You can also make it a regular task for everyone and ask them to be on the lookout for ideas and suggestions to improve your strategy.
Optimize FinOps With Proper Tagging Strategies
With tagging strategies in place, it becomes easier for businesses to keep, locate, track, calculate, and optimize their expenses efficiently and effectively. This reduces the overall running costs of the cloud to a minimum, helps generate more revenue, and ensures your success.
For more resources on cloud computing, DevOps, and cloud management, check out loves.cloud's blog today!